The X-Mas Run started December 18th and should be over about the 25th or 26th, maybe even later depending on the results. I am starting with 14 norns. 13 were sent in and one of my own.
Starters: Alik, Amiya, Ashley, Beauty, Bic, Dale, Dava, Felicity, Mark, Missy Misty, Monster, Snowy, and Tigres.
X-Mas Feral Run Part 2 was started on December 20th because all of my norns got sick. What I did was create a new world, and imported all of the offspring (the norns from this webpage all 22 of them). All of the norns starting are at the baby stage and they will grow up together. Weird to think that you get to grow up with your mom... Just 15 minutes so far in Day 5 and 4 norns were born. 3 norns became pregant... and my world now has 31 norns and is moving at incredibly slow speed.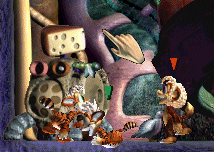 (This place seems to be a favorite for my younger norns.)
(all downloads are of the norns when they were first born)
| | |
| --- | --- |
| | Part 1: Beck has already had two children of his own and isn't even an hour old so I am pretty sure he is a good breeder. Part 2: Beck got sick and was exported. Mother = Misty / Father = Monster |
| | Part 1: Becky just layed her first egg and it is about to hatch. Part 2: Nothing yet. Mother = Missy / Father = Snowy |
| | Part 1: Bri is now old enough to breed and started it off with twins. Part 2: She hasn't done much yet. Mother = Misty / Father = Monster |
| | Part 1: Cathryn grew up fairly fast and is already a mother of three children. Part 2: She just got pregnant Mother = Amiya / Father = Bic |
| | Part 1: They are both children of Beck. Cap is the green male and Crayon is the female to the left. Cap enjoys being alone with his stereo... Part 2: Crayon has a baby and Cap is still a baby at age 50 minutes Cap's Mother = Felicity / Father = Beck Crayon's Mother = Amiya / Father = Beck |
| | Part 1: Dameon is grown up but is not a father yet. Part 2: Father of 3 and had twins. Mother = Missy / Father = Bic |
| | Part 1: Dianna is almost old enough to breed. Her color is now puke green. Part 2: She had a baby. Mother = Cathryn / Father = Alik |
| | Part 1: Doo looks just like her mother and is very cool looking. Part 2: She has had a baby. Mother = Tigres / Father = Mark |
| | Part 1 and 2: Ewe was a great looking norn but died probably of starvation by the graveyard shortly after birth. Luckily I did back her up. She just doesn't seem to want to survive. Mother = Tigres / Father = Dale |
| | Part 1: Look she blends in. She is now green. She finally got pregnant but won't lay her egg. She was the second case of the sickness. Part 2: She hasn't had any kids yet. Mother = Felicity / Father = Dale |
| | Part 1: Bett is very unique looking for being a second generation norn and is Felicity's first non colored norn. Bett nearly died of starvation before he finally ate. Part 2: He always seems to wait till the last minute to eat... he has had two kids. Mother = Felicity / Father = Monster |
| | Part 1: Ena is Dava's and Becky's first child. Part 2: She just laid an egg. Mother = Becky / Father = Dava |
| | Part 1: Evan is a perfect mix between his mom and dad. Was the third case of the sickness and Dale's only living son. Part 2: Evan is yet to have a child. Mother = Doo / Father = Dale |
| | Part 1: Eleven was the first norn born on Day 2. Part 2: His first child was born (Ferris) Mother = Amiya / Father = Dava |
| | Part 1: Dimple is Cathryn's second child. Part 2: She also changed puke green color. Mother = Cathryn / Father = Alik |
| | Part 1: Crispy looks like a pure Bengal norn. Part 2: First norns to have a baby. Mother = Misty / Father = Mark |
| | Part 1: Champene and Cell are the first twins of the Feral Run and my first twins that weren't identical. To the left is Champene and to the right is Cell. Part 2: Champene went on to have twins of her own and Cell got pregnant right after Champene got pregnant. Mother = Bri / Father = Mark |
| | Part 1: Elton was born around the time the sickness started to spread. Part 2: Has had one child. Mother = Bri / Father = Dava |
| | Part 1: She was born just as all my norns were catching the sickness. Luckily she got away in time. Part 2: She got pregnant but won't lay her egg. Mother = Cathryn / Father = Dava |
| | Part 1: Eskimo was the first child born on the third day... well that didn't die right away. Part 2: He hasn't had a kid yet and had problems with eating when he was young. Mother = Misty / Father = Dava |
| | Day is one of the second set of twins. Her mother Champene was also a twin. Mother: Champene / Father: Dameon |
| | Dey was born a minute before her twin sister Day. Mother = Champene / Father = Dameon |
| | Dre was the first norn born in Part 2. Mother = Crispy / Father = Dameon |
| | Elaine's mother started the trend of having kids. In other words she was the first norn to be born in the large group of pregnancies. Mother = Doo / Father = Bett |
| | Dim, the little Cow norn coming out from behind the egg is the first natural born female with a Cow head. Mother = Cell / Father = Bett |
| | Fallout is almost all Bruin except for his tail. Mother = Dianna / Father = Elton |
| | Ferris, named after Ferris Bueller from Ferris Bueller's Day Off should change names with Fallout because shortly after this picture he fell right off the edge. Mother = Crayon / Father = Eleven |
| | Here's a picture of Feet while he was falling out of the tree house. I like his tail. Mother = Ena / Father = Dameon |
| | Firme is one of the few 6th generation norns. Mother = Cathryn / Father = Evan |
| | Derbi is only my second natural born Cow(Civet) female norn. Mother = Champene / Father = Bett |
| | Cristi is a Norn... :) I have nothing more to say. Oh ya she is only third generation... odd. Mother = Becky / Father = Bett |
X-Mas Feral Run Log
Day 1 -
Beauty gets a horrible cold
Missy becomes pregnant
Egg layed
I was forced to export Beauty due to her health and her cold
Misty becomes pregnant
Egg layed
Becky is Born Mother = Missy Father = Snowy
Beck is Born Mother = Misty Father = Monster
Amiya becomes pregnant
Misty becomes pregnant
Egg layed
Egg layed
Cathryn is Born Mother = Amiya Father = Bic
Bri is Born Mother = Misty Father = Monster
Tigres becomes pregnant
Egg Layed
Snowy Dies
Doo is Born Mother = Tigres Father = Mark
Missy becomes pregnant
Egg Layed
Dameon is Born Mother = Missy Father = Bic
Felicity becomes pregnant
Tigres becomes pregnant
Egg Layed
Egg Layed
Eye is Born Mother = Felicity Father = Dale
Ewe is Born Mother = Tigres Father = Dale
Felicity becomes pregnant
Amiya becomes pregnant
Egg Layed
Egg Layed
Ewe Dies
Crayon is Born Mother = Amiya Father = Beck
Cap is Born Mother = Felicity Father = Beck
Cathryn becomes pregnant
Egg Layed
Becky becomes pregnant
Egg Layed
Dianna is Born Mother = Cathryn Father = Alik Ena is Born Mother = Becky Father = Dava
Doo becomes pregnant
Egg Layed
Felicity becomes pregnant
Egg Layed
Evan is Born Mother = Doo Father = Dale
Bett is Born Mother = Felicity Father = Monster
Day 2:
Amiya becomes pregnant
Egg Layed
Eleven is Born Mother = Amiya Father = Dava
Cathryn becomes pregnant
Bic is exported
Egg Layed
Misty becomes pregnant
Egg Layed
Dimple is Born Mother = Cathryn Father = Alik
Bri becomes pregnant with twins
Egg Layed
Egg Layed
Crispy is Born Mother = Misty Father = Mark
Missy is exported
Cell is Born Mother = Bri Father = Mark
Champene is Born Mother = Bri Father = Mark
Day 3:
Ashley becomes pregnant
Egg Layed
Creature is Born Mother = Ashley Father = Dale
Creature dies
Dale gets sick
Eye gets sick
Dale & Eye get better?
Misty becomes pregnant
Bri becomes pregnant
Egg Layed
Egg Layed
Cathryn becomes pregnant
Egg Layed
Eskimo is Born Mother = Misty Father = Dava
Elton is Born Mother = Bri Father = Dava
Eye becomes pregnant
Eleven gets sick
Tigres is exported
Eerie is Born Mother = Cathryn Father = Dava
Antigen 7 spreads amongst my norns!
Eye won't lay egg
X-Mas Feral Run Part 2
Day 3:
Day 4:
Ewe dies
Crispy becomes pregnant
Beck gets sick
Egg Layed
Dre is Born Mother = Crispy Father = Dameon
Doo becomes pregnant
Beck is exported
Egg Layed
Champene becomes pregnant with twins!
Cell becomes pregnant
Dianna becomes pregnant
Eerie becomes pregnant
Egg Layed
Crayon becomes pregnant
Egg Layed
Egg Layed
Egg Layed
Elaine is born Mother = Doo Father = Bett
Egg Layed
Dey is born Mother = Champene Father = Dameon
Dim is born Mother = Cell Father = Bett
Day is born Mother = Champene Father = Dameon
Fallout is born Mother = Dianna Father = Elton
Ferris is born Mother = Crayon Father = Eleven
Ena becomes pregnant
Eerie won't lay egg
Cathryn becomes pregnant
Egg Layed
Day 5:
Feet is born Mother = Ena Father = Dameon
Eerie is exported
Crayon becomes pregnant with twins
Bri becomes pregnant
Firme is born Mother = Cathryn Father = Evan
Derbi is born Mother = Champene Father = Bett
Egg Layed
Egg Layed
Cristi is born Mother = Becky Father = Bett
Egg Layed